Welcome
We are a family owned and operated establishment and take pride in growing quality nursery stock since 1980.
With multiple root pruning, minimal basket sizing and close attention to the root flare area, we feel you are obtaining the best tree stock in the area. All these steps lessen the shock of transplanting and help the tree to quickly establish in your yard.
We would like to invite you to come by and let us show you the difference in our trees and shrubs.
Where are we?
Turn at the catsup bottle. Follow South Clinton up for about a mile and a half and the Farm is on the right.
Or turn right on Bethel Mine Rd. (across from Hollywood Heights Rd.) on 159 coming from Fairview Heights. Curve left then right. At 3 way stop turn left, then left again onto S. Clinton. The Farm is on the left.
Contact us
1406 S Clinton Road
Caseyville, IL 62232
Phone: 618 344.5963
Fax: 618 344.9871
Golden Glory Dogwood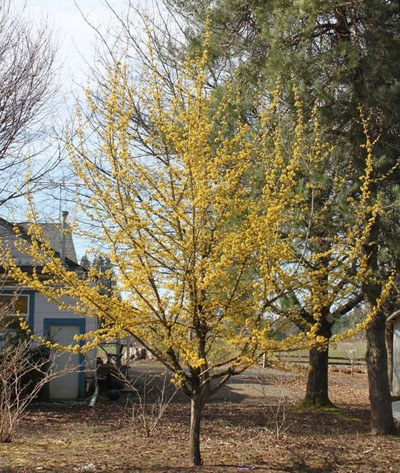 In late winter Golden Glory bears its clusters of small yellow flowers in a light shimmer across the tree. It's always pretty, but not dramatic. It's English name is Cornelian Cherry, because of the glossy red fruits borne in early autumn, which are rather acidic, but can be used for making jam if you're inclined to waste sugar. 'Golden Glory' is a commonly grown clone, it is free-flowering, with a more upright branching habit.
Kentucky Coffeetree
Spring brings the initial treat with clusters of petite, white flowers cascading from the branches. Their contrast against the double-compound, vibrant green leaves is lovely. Each leaf can reach up to 3 feet in length (with 100+ tiny leaflets), presenting an impressive sight for your yard.
© Crain Tree Farm and Nursery
Tree and Shrub Health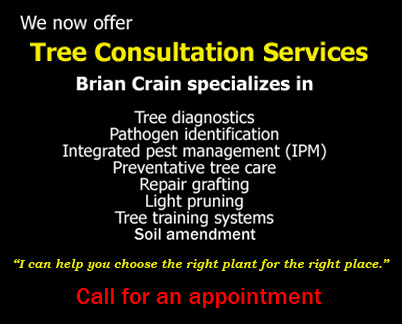 Rich says...
The best time to plant a tree is 10 years ago. The second best time is today!

Why Mulch?
* Mulch helps to insulate the soil, providing a buffer from cold temperatures.
* Mulch helps to retain water, keeping the roots moist.
* Come Spring it will also keep weeds out to help prevent vegetative competition.
* Composted bark (2yrs old) or even shredded leaf mulch are acceptable types to use. Shredded leaf mulch decomposes faster and releases more nutrients into the soil which is beneficial to young trees, but it will also need to be replaced more often.
Sour Gum/Black Gum/Black Tupelo
Nyssa sylvatica
'Wildfire'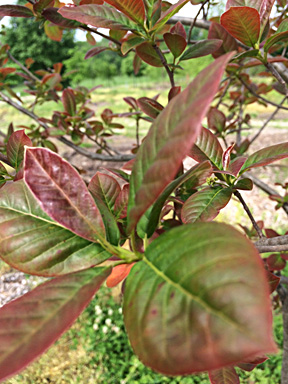 Need a 30-foot shade tree that's beautiful all year long? Nyssa sylvatica 'Wildfire' will definitely impress you.
Winter Interest
Winterking Hawthorn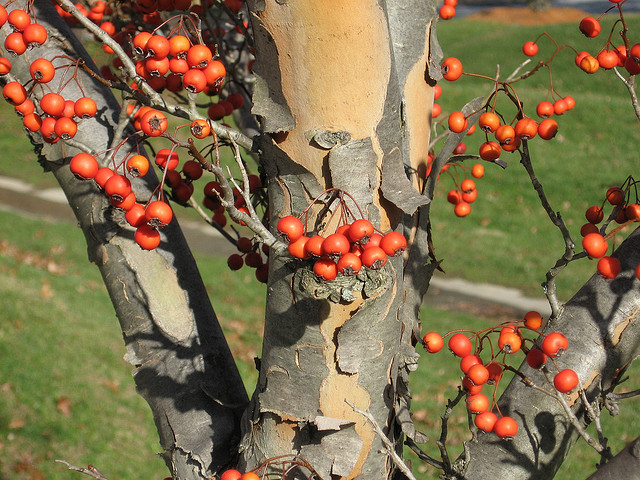 Edible! I have tried the haws, they're not bad. I can see why the birds love them. Peeling bark is interesting. Spring flowers are also very beautiful! ~ Karen
Hardy Rubber Tree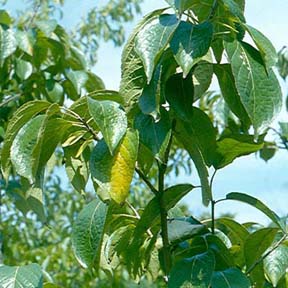 Eucommia Ulmoides makes an excellent shade tree with great summer foliage that is virtually free of pests.